Why Homestay?

A homestay is the only housing option that provides international students and visiting scholars the opportunity to live in an American home while studying in Philadelphia. By sharing life together with local hosts, students have a first-hand experience of American culture and a chance for regular, relaxed conversation in English.
Students love the safety and comfort of home while living in an excellent environment for serious study. Students find that a homestay is much more than just renting a room in a house. A homestay is a place that makes you feel right at home.
Homestays include: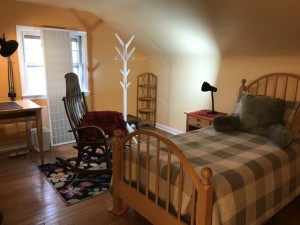 Relationships right where you live
Safe, affordable accommodations
A comfortable, fully furnished, private bedroom
Linens (sheets, blankets, and towels)
Shared bathroom
Air conditioning from mid-May to mid-September
Daily, self-serve continental breakfast
Two/three family-style dinners each week
Internet access
Microwave, refrigerator, and laundry facilities
Regular and relaxed conversation in English
Rich variety of American cultural experiences
Lifelong memories of your American family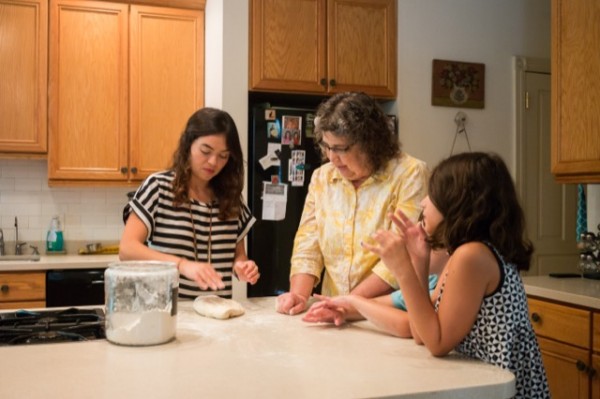 Live as a Part of the Family
Our students and scholars come from all over the world to study in many capacities in Philadelphia. They are adults (at least 18 years old). Some stay a month and some stay several years. Most are students of English as a Second Language; some are visiting scholars; some are traditional undergraduates; some are Medical, Dental, or MBA students; some are doctoral students; and some are focusing on specific test-preparation. All find our homestay a great place to live, practice English, make American friendships, and study as needed.
Homestay guests are expected to live with us as "family members". As such, guests will enjoy regular conversation in English and may be invited to participate in a variety of our family traditions, activities, and outings. Guests will be expected to keep their bedrooms and bathrooms clean and help with shared tasks like cleaning up after a family meal and making sure the bathroom stays clean for everyone.
Living in a homestay is the very best way for internationals to experience American culture, in the safety and comfort of a home while having many opportunities to practice English conversation.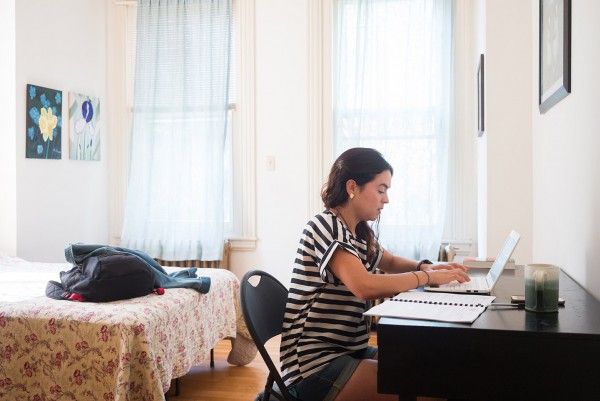 Live and Learn Affordably
The homestay fee is prorated at $35/night for a private room for stays under one month, regardless of room, or $50/night for married couples sharing their room. This fee includes a fully furnished private bedroom with towels, sheets, blanket and a pillow; a shared bathroom; access to laundry facilities, microwave, and refrigerator; internet access; and air conditioning from May 1 through September 30. The Homestay Fee is all-inclusive. There are no additional taxes, utilities, or fees.
The monthly rate (payable on the first of the month) is: $875 to $925 based on single occupancy, and depending on the size of the room. Double occupancy is $1400 (married couples only). When you contact us, we will let you know which room or rooms are available.
Students share a common bathroom on the third floor. For more detailed information, see our FAQ, What does the Homestay Fee Include?
See how a homestay compares with typical living arrangements.
* Prices are valid from April 2022 and are subject to change April 2023.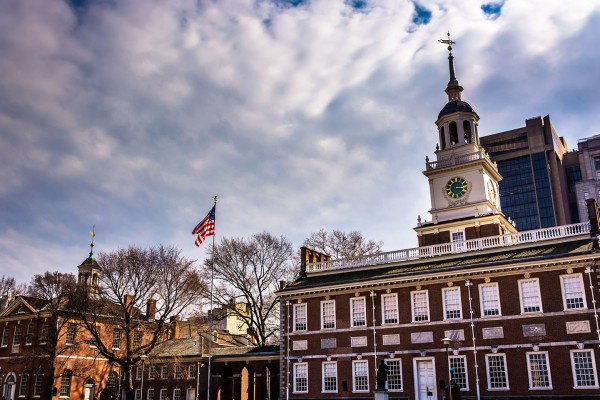 Experience American History and Culture
Many hosts have opened their homes to international guests attending one of the excellent programs at universities and language schools in Philadelphia. The ideal location for a homestay, Philadelphia is the birthplace of America. Trendy shopping, dining, and artistic venues make Philadelphia a fabulous setting. Our hosts have gracious homes, many of them turn-of-the century. They are a part of Philadelphia's rich diversity. Our hosts all live within easy access to the many programs our guests are attending. All of them can't wait to introduce you to the fun places they enjoy frequenting in their neighborhoods. Philadelphia is a city waiting for you to explore!